Star Clinic
Offering a value called "youthfulness"
Star Clinic is established as a clinic specialized in regenerative medicine based on cutting-edge stem cell therapy. Stem cell therapy's great potential is recognized in all over the world in its prospective use in preventative medicine, aging-care medicine and aesthetic medicine.
Aging of the body is inevitable for both men and women. As one ages, eyesight and hearing go down. Bones, joints and muscles weaken. Memory and immune function decline. Skin loses its elasticity and gloss. These changes and decline in function are attributable to the aging of cells.

At Star Clinic, we offer cutting-edge technology at state-of-the-art facility to provide stem cell therapy in which stem cells are administered to weakened cells to rejuvenate them, reclaiming health and beauty for the patient.
Located within Star Clinic is our Tokyo Cell Processing Center. Following the guidelines provided by Regenerative Medicine New Act and under rigorous quality control, adipose tissue is extracted from the patient. Then from the tissue, stem cells are cultured by our highly skilled professional cell culture specialists. Administering stem cells safely makes stem cell therapy possible.
In addition to regenerative medicine, we offer beauty treatment, anti-aging treatment, motor function treatment and athletic medicine all on outpatient basis. We provide counseling and treatment for patients in the areas including preventative medicine, beauty treatment and joint and muscle treatment. In addition to stem cell therapy, we also provide counseling and treatment for a wide range of common illness. Through our partnership with a university hospital, we are able to address a wide range of patient needs.
Preventative medicine as premium care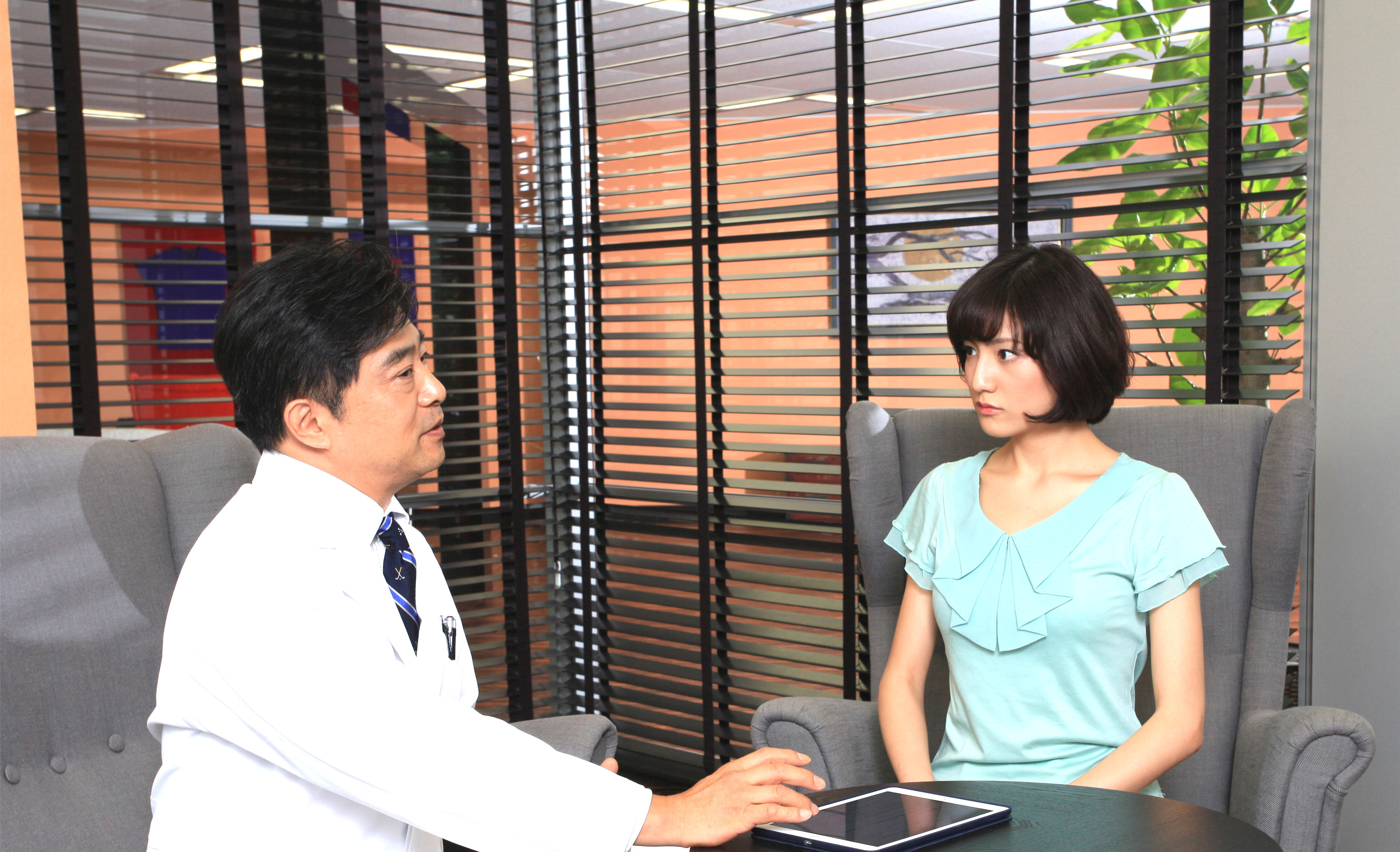 No matter the ailment, preventive treatment is as important as treating an ailment itself. This may seem obvious, but proper preventive treatment means that one does not become ill in the first place and be able to lead a healthy life. Therefore, treating problem areas early on is a shortcut to prevention.
Human beings always manifest advance symptoms before becoming ill. Those at risk of illnesses may, at that early stage, already be sustaining some damage to their bodies. If a part of the body is weakened and symptoms worsen, we enter the realm of illness. However, the body is kind enough to give us signals for help when things are going wrong -- we start to feel a bit under the weather.
Administering cultured stem cells to the injured area causes a homing effect, providing targeted repair to the cells and tissue sending the distress signal. For this reason, stem cell treatment has major potential for preventive care. At Star Clinic, we are putting serious efforts into the area of preventive therapy and treatment.
Aesthetic medicine in pursuit of beauty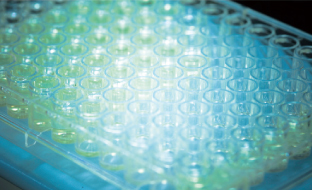 Stem cell therapy has great potential in its prospective use in aesthetic medicine. There are many people - both men and women – who seek for treatments in pursuit of "beauty". At Star Clinic, we provide the latest in aesthetic treatment methods using stem cell therapies for all patients, regardless of age, as a solution for their pursuit of beauty.
Cultured stem cells administered to a patient's body repair capillary vessels and vascular walls in the areas deteriorated by age, rejuvenating the body from within. As a result, dark spots, wrinkles, and sagging skin will improve with restored luster and elasticity. Hair growth and hair restoration may also be promoted.
This therapy is also possible to be effective in treating a variety of sex-related issues for men. At Star Clinic, we provide solutions for a diverse range of beauty-related concerns for both men and women.
Therapy to address joint and muscle troubles and improve bodily functions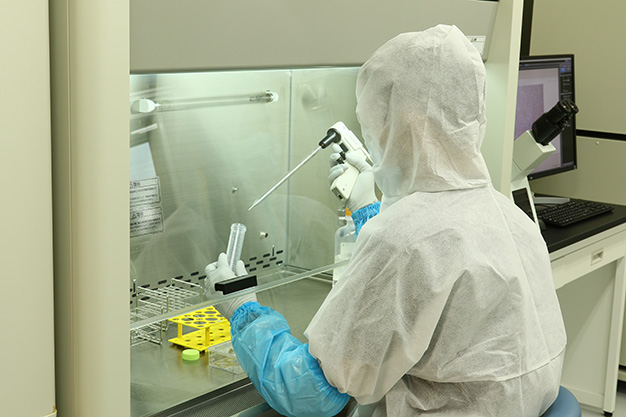 It is inevitable that as men and women age, various parts of our bodies begin to deteriorate and slow down. The primary cause of aging is that as we put on years, the functions of tissue and cells decline, and they lose their ability to regenerate. Knee, shoulder, and back pain is caused by weakening joints and muscles. Stem cell therapy and platelet therapy allow one to regain the youthfulness that was lost from declined cell function. These same treatments are gaining major attention as modalities for the curing of injuries sustained by sports athletes and for improving their bodily performance in areas like muscles, tendons, and bones.
Physical weakening happens before they appear as symptoms. Administering cultured stem cells allows one to regain the youthfulness that was lost from weakened cell function.
This is because stem cells improve cell function and promote growth. Bodily functions are repaired from within, and tissues and cells are activated to repair and grow. In this way, stem cell treatment brings back youthful looks. It also improves one's appearance and reduces the effects of aging.
This treatment is highly effective for those suffering from age-related hip and shoulder pain. Star Clinic provides a range of treatment modalities matched to patients' needs. We also provide physical training methods as part of our comprehensive treatment plan.

Treatment Information
At Star Clinic, we offer the latest stem cell therapies and other treatments, offering preventive care, treatment of joints and muscles, improved bodily function, beautifying treatments, and more.
Stem cell therapy
At Star Clinic, we offer state-of-the-art regenerative medical procedures based on stem cell therapy in an outpatient setting. We offer beauty treatment, anti-aging treatment, motor function treatments, athletic training, and sports medicine, all on an outpatient basis. We not only treat a wide range of common illnesses, but also practice preventive medicine, treatment for joint and muscle weakness, medical solutions for physical and mobility impairments, and aesthetic medicine, all through stem cell therapy.
Treatment for men
We are able to address a range of medical and beauty concerns for men. Our medical practices for men are based on stem cell therapy, ranging from counseling to preventive medicine to cosmetic treatments. We also offer counseling, testing, and treatment for lifestyle-related diseases and other ailments.
Moreover, we are able to provide treatment for age spots and wrinkles (which are no longer limited to the elderly, and are on the rise among young men) helping our patients to look young, healthy, and beautiful for years to come. We are also able to offer comprehensive treatment for concerns related to sexual health.
Treatment for women
For our female patients, we offer counseling services, aesthetic treatments, anti-aging treatments and preventive medicine based on stem cell therapy.
We also carry out traditional cosmetic surgery and testing as well as prevention, treatment, and counseling for general medical and gynecological issues. We offer treatment for age-related beauty concerns such as age dark spots, wrinkles, dullness, and sagging. In addition, we treat back and hip pain and other issues stemming from bone and muscle weakness, and we counsel young women on steps they can take to prevent these injuries down the road. We are here to address your needs and assist you to be as beautiful as you possibly can be for years to come. In addition to stem cell treatment, Star Clinic offers cosmetic surgery and skin treatments for women. We offer counseling tailored to each patient's needs.
Motor function treatment
One of the key causes of back, shoulder, and knee pain associated with aging is decreased function in tissues and cells. In addition, excessive exercise and stress on tissues can also cause joint and muscle injury, damaging the cells.
Through a combination of stem cell therapy and platelet therapy, we restore lost cell function and bring tissues back to full health. Treatment modalities like stem cell therapy and PRP (platelet-rich plasma) treatments are also gaining attention for sports and athletic applications where patients want to heal injuries and improve muscle, tendon, and bone performance. We can also provide a physical training program matched to your treatment regimen.
Outpatient regenerative medicine
Medical treatment not covered by insurance
- Aesthetic medicine
- Outpatient anti-aging treatment
- Outpatient motor function treatment
- Outpatient Athletic medicine
Medical service specialties
- Internal medicine
- Dermatology
- Plastic and reconstructive surgery
- Orthopedics
Our Facilities
At Star Clinic, our facilities are setup so we can conduct every procedure for stem sell therapy, including counseling, tests, lipid sample extraction, cell culturing, administering stem cells and prognostication, as well as treatments for other medical issues. With privacy concerns being addressed, our facilities are sanitary, clean and safe.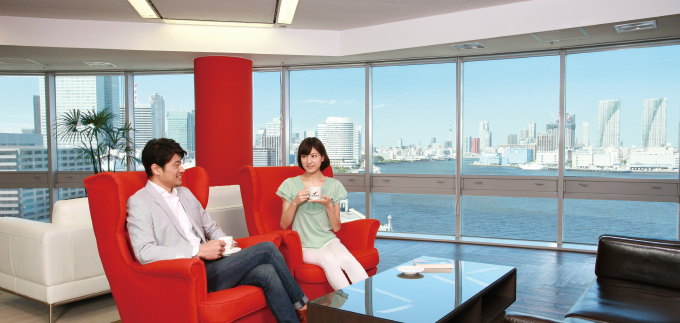 Lobby
Our lobby has a great view of the ocean that one would expect to see at a resort hotel in overseas. The lobby is designed so our patients can totally relax and be comfortable.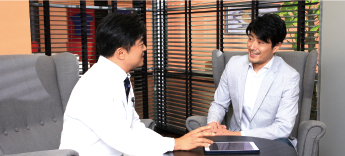 Counseling room
Counseling is very important. Our counseling room is designed so that our patients can enjoy the view, be comfortable and relaxed to talk to our doctor.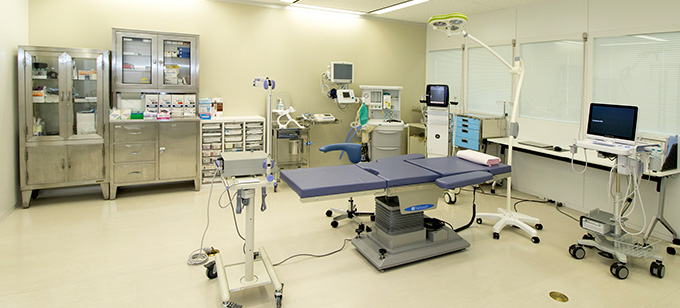 Operating room
Our operating room provides a strictly controlled hygienic environment primarily for adipose tissue extraction procedure.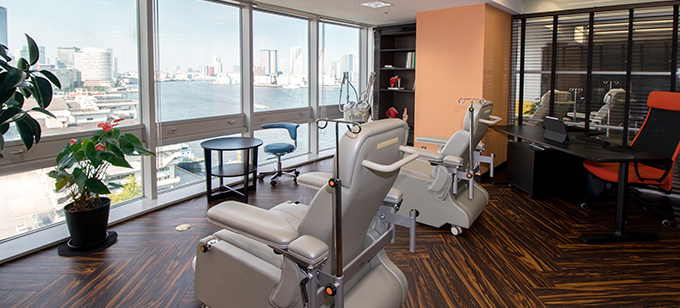 Administration room
A private room where our patients can relax and be comfortable during stem cell administration.
Cell culturing center
Tokyo Cell Processing Center
Adipose tissue extracted from a patient at our operation room is immediately brought to Tokyo Cell Processing Center located within Star Clinic. The tissue undergoes enzyme treatment, then stem cells are separated and cultured.
Cell culturing is carried out under rigorous hygienic control by our highly skilled professional cell culture specialists.
Culturing cells require aseptic condition where the amount of minute particles are reduced to meet high standards. To maintain high level of safety, cells undergo virus check and other tests prior to be separated and cultured. Cell culturing program is structured with a history management system to prevent cell mix-up throughout the entire process and a vigorous quality control system.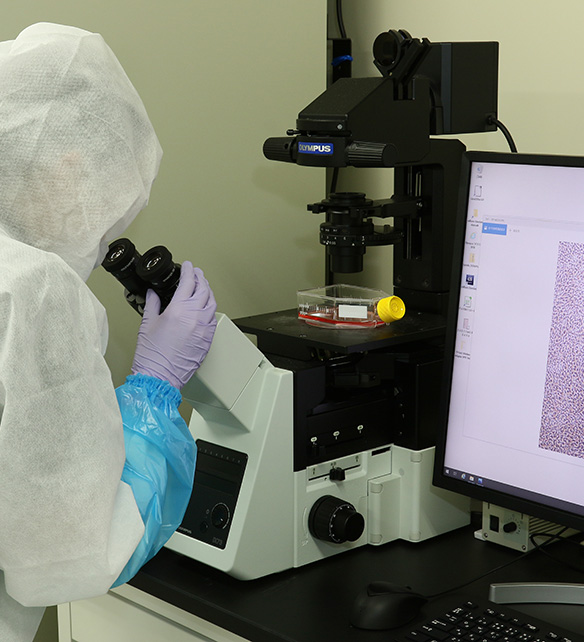 Autoserum-containing medium
At Star Clinic, cells are cultures using safe medium. Specifically, we use autoserum-containg medium using the patient's own serum.
It involves no side effects and it also reduces the stress to the patient body, requiring less amount of serum. Thus we can safely produce high quality cultured stem cells.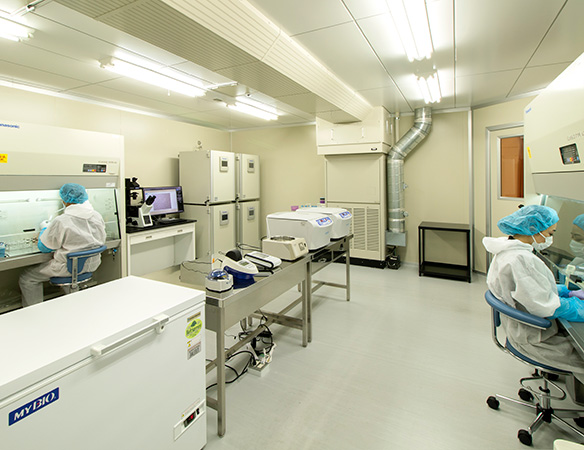 Stem cell therapy
Procedures of outpatient regenerative medicine
Star Clinic is a state-of-the-art medical service provider that offers stem cell therapy in accordance with the guidelines by the Ministry of Health, Labour, and Welfare.
Our hygienic and state-of-the-art facilities enable us to provide complete procedures of stem cell treatment, from adipose tissue extraction, cell culturing administering of stem cells, to post-treatment diagnostic care.
1. Counseling

Stem cell therapy begins with counseling. In our counseling room, doctors follow the Ministry's Guidelines on the Use of Human Stem Cells and explain to the patient in detail the intended objectives, the level of safety, and the risks of the treatment to be administered. Patients and their family members gain a thorough understanding of the treatment and the plan. Upon the patient's voluntary consent, the treatment begins.

2. Blood specimen collection and pre-treatment tests

Upon the patient's consent, we collect blood specimen and perform a screening. A range of tests are performed including checking for virus infection.

3. Adipose tissue extraction

At our clean operating room fully disinfected to avoid contamination, adipose tissue of about the size of a rice grain is extracted from the patient's subcutaneous fat through a surgical incision of 2-r centimeters in the abdomen. Patients can go home immediately after the procedure. They can take a shower and bathe as usual the following day and return to normal activities.

4. Culturing Stem Cells

Star Clinic transfers the adipose tissue to Tokyo Cell Processing Center located within Star Clinic where stem cells are cultured under rigorous quality control. It takes about 3-4 weeks to culture and produce between several tens of millions to several hundreds of millions of stem cells.

5. Delivering Stem Cells throughout your body

Stem cells cultured at Tokyo Cell Processing Center are then administered to the patient. Depending on the patient's state of health, the procedure is completed in one or several visits. Stem cells are administered either intravenously or locally. Intravenous stem cell administration is considered to be the most effective method for delivering stem cells throughout the body. Stem cells are delivered slowly over a period of time via IV. Patients can relax comfortably on a reclining chair in a completely private room while receiving IV. Stem cells may be administered locally for aesthetic treatment for dark spots and wrinkles or treatment for motor function issues including joint dysfunction. Local stem cell administration is performed in a fully disinfected environment to prevent infection. For both intravenous and local administration of stem cells, there is no need for patients to stay overnight; treatments are performed on an outpatient basis.
Stem cell therapy as outpatient regenerative medicine
Cost estimate
* Consumption tax included
Outpatient anti-aging treatment

From 2,860,000 yen

Outpatient motor function and athletic treatment

From 1,320,000 yen

Outpatient aesthetic treatment

From 1,760,000 yen
*FOR FOREIGNER PAITIENT
We are supporting to get MEDICAL VISA.
If you would like to get MEDICAL VISA,
please contact us info@starclinic.tokyo
Access
MAP
Means of Transportation
Shuto Expressway
3 minutes from Shibaura Exit Ramp of Haneda Line.
Parking available.
Tamachi Station of JR Line
15 minute walk from East Exit.
3 minutes via complimentary shuttle bus from East Exit.
Shibaura Futou Station of Yurikamome Line
3 minute walk from East Exit.